In case you haven't noticed, headstands have been plastered all over social media lately, along with many other beautiful and intricate inversions. Being upside-down provides many benefits apart from looking graceful; the positioning of your heart above your head relieves stress, strengthens the core, increases blood circulation, gives a boost of energy, and helps to decrease leg swelling.
How to Do Headstand (Sirsasana): 6 Tips to Master the Pose
If you are a beginner and new to inversions, attempting a headstand is the way to get started because there is more surface to balance on. From my experience and advice that I have received, here are some tips to help you navigate headstand and master this asana in no time!
1. Practice against a wall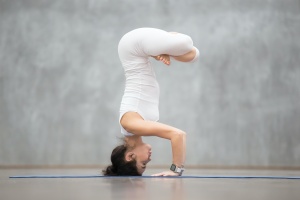 As a beginner, with any inversion, the wall is a great place to start. Going upside down for the first time can be intimidating and since the most common concern is falling, using a wall can eliminate most of that fear. By practicing against a wall, you can slowly learn where your center of balance is which eventually will come naturally. Although the wall is a great form of assistance, try not to rely on it and slowly move away from it as you progress in your practice. For instance, begin in a tabletop position on the mat and lower yourself onto your forearms keeping them shoulder-distance apart. Interlace your fingers and create a cushion to support the crown of your head. Next, with your hands touching the wall, place your head onto your hands and start walking your toes closer to your torso while allowing your weight to be supported by your arms. Once your hips are above your head, try lifting one foot at a time off the mat and hugging it into your chest. When you feel comfortable and stable enough, try hugging both feet into your chest and with control, extending them up towards the sky. Practicing this while facing the wall will make you feel safer since you know it will catch you if you lose your balance.
2. Don't kick up
If you've noticed in my previous instructions on how to get into a headstand, there is no kicking involved. Many beginners kick up to get into this inversion but I recommended trying to achieve this asana with control and slower movement. As you might imagine, kicking up can also increase your chances of falling. Another thing to keep in mind is that if you rely too much on kicking up into this pose against the wall, once the wall is taken away, you will continue practicing with too much momentum and might end up hurting yourself. By slowly tucking your feet into your chest, your body is still relatively close to the mat so that falling wouldn't be as harmful. Slowly pushing up into headstand also strengthens your core and engages your entire body which provides a full-body workout. The bottom line is, you try kicking up a few times, in the beginning, to see how it feels being upside down, but try not to make it a habit and learn how to lift your body with control and intention.
3. Push your shoulders away from your ears
The way that your shoulders and arms wrap around your head in this asana is intended to protect and head and neck while balancing upside down. The important thing to remember is to always push firmly into the mat with your forearms and hands so that your upper body doesn't sink into your shoulders which can lead to injury. Many beginners tend to do this and bring their shoulders close to their ears but this does not provide a safe and solid foundation for headstand. Instead, remember to push your shoulders away from your ears and press into the mat with your forearms because your entire body is relying on this base. If you're still not sure if your alignment is correct, ask a yoga instructor to correct you during a class or film yourself and use the footage to correct yourself.
4. Engage your core
Generally speaking, most yoga poses require and help to develop a strong core as well as prevent injury. It's needless to say that in headstand, your core plays a very important role. If I were to practice a headstand right now, with my core engaged versus relaxed, there would be a significant difference in the duration and alignment of the pose. That said, headstands are a major core workout and you'll have to rely on a strong core to maintain a straight and stable headstand. Practicing core strengthening workouts before even attempting this inversion will help you significantly. Try practicing Boat Pose, plank, and side plank regularly to tighten and strengthen your abdominal muscles.
5. Keep your arms shoulder-width apart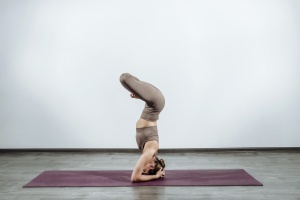 Coming back to establishing a strong foundation, your arms are a very important aspect of headstand. Before placing your arms onto the mat, make sure that they are shoulder-width apart. One way to ensure correct alignment is by extended your arms in front of you and grabbing opposite elbows with each hand. This is exactly the distance that your arms should be from each other when placed on the mat.
6. Exit the pose safely
Before even getting up into headstand, a key thing to remember is how to exit the asana safely and with control. Usually the best way to get out of a yoga pose is the same way you got into it; in this case, slowly bend your knees and bring them into your chest with your toes pointed and your core engaged. Allow one foot to touch the mat at a time until both feet are firmly planted on the mat. Next, gently walk your toes away from your torso and rest in Child's Pose. Try to avoid kicking down from headstand and making any harsh movements which could lead to injury.
Contact YogaRenew To Learn More
Headstands take time and lots of practice to master but hopefully, the tips above will prevent injury, help to avoid unwanted errors, and assist with your progress. Remember to prioritize safety and practice with intention. Reach out to YogaRenew to learn how to do a headstand (Sirsasana).