Mindful Eating Online Course
Master and teach mindful eating with this online certification
50 Hour Course with Registered Yoga Alliance Continuing Education
Enroll today!
Our Mindful Eating course is an intensive, evidence-based training in mindfulness and mindful eating, where you will learn new skills, tools and practices to become a true mindful eating and meditation practitioner and instructor.
• Liberate yourself from the dieting mentality
• End emotional eating, overeating & binge eating
• End Food Cravings
• Free yourself from the obsession with food and weight.
• Cultivate a real relationship with food that is healthy and sustainable.
• Cultivate a positive body image
YogaRenew's Mindful Eating Online Certification
This training has elements and components of MBSR – Mindfulness-Based Stress Reduction and MB-EAT Mindfulness Based Eating Awareness Training. The training includes a blend of practices for personal or professional scenarios:
Mindfulness
Meditation
Mindful Eating
Work at your own pace with a combination of instructional videos, guided practices, personal logs, reflections and inquiry sheets. Revisit content anytime with lifetime access.
You'll begin by learning the foundations of Mindfulness and Meditation and then follow our guide to build out your own professional Mindful Eating program and practices.
Live Weekly Sessions with Rajaa
If you like some interaction with the teacher and the mindfulness community, you can join Rajaa in her weekly live (online) session every Wednesday at 3 PM EST. The session is a forum for discussion after a live guided mindfulness meditation.
Who is this training for?
Health-care professionals (dietitians, nutritionists, psychologists, psychotherapists, counsellors and social workers) who recognize the power of mindfulness-based practices and are interested in learning about using such practice to guide patients towards long-lasting health.
Wellness professionals interested in incorporating these practices into their repertoire of offerings to support clients.
Anyone on a healing journey who has struggled with food, body image, and self-esteem for years and is ready to break the cycle and live with confidence.
To know if this program can help you with your healing journey, check the below questions:
Do you feel you don't have self-control around food?
Are there certain foods that once you take a bite you cannot stop eating?
Do you tell yourself that you will have only one bite then end up eating the whole piece or bag, and then feel guilty and promise yourself that this would be the last time?
Do you feel anxious when invited to dinner because you have been "good" during the week and you are afraid that you will blow all the hard work during this dinner?
Do you restrict your calorie intake during the week so that you can binge on the weekends?
Do you fast all day on the days you are going out for dinner, so that you can eat freely in the evening?
Do you spend a lot of time and energy obsessing about what, when, and how much to eat, what size your body should be and should look, how much you should weigh, what clothes make you look slimmer?
Do you weigh yourself multiple times a day?
Do you feel uncomfortable with your natural body shape, or resentment towards certain body parts or you wish them to look different?
Do you post on social media the photos with the angles that make you look thinner? Or even photoshop them?
Do you eat as a response to certain emotions like boredom, loneliness, anger, sadness, fear..etc?
Do you eliminate entire food groups like carbs, fats, sugar, dessert and then end up overeating them at some point?
When you eat a certain type of food that you think you shouldn't be eating, do you promise yourself every time that this will be the last time so you end up finishing the whole pack, pint or box?
Do you categorize food as good foods and bad foods, and beat yourself up when you eat from the bad food category?
Do you feel guilt and shame after you overeat or after eating a type of food that you think you shouldn't be eating?
If you answered "yes" to one or more of the above questions, then this course can for sure help you.
By completing this program you will…
Master the art of moderation, so that you can enjoy few bites of your favorite dessert and feel satisfied with few chips or crackers for a snack.
Attend big holiday dinners without anxiety, and you can go to parties and buffets where multiple delicious foods are there, while feeling a sense of freedom that comes from knowing that you have mastered the skills of mindful eating and that you're not going to overdo it, it comes from trusting that you can eat smaller portions from any food that you like and yet feel more satisfied.
Lose weight if that's your intention and maintain it without feeling deprived and without missing out on everything you love about eating.
Stop obsessing about food and weight and free more time and energy to other important areas of your life.
Cultivate self compassion and love your natural body shape and size.
What you'll learn in this program:
Mindfulness & Mindfulness Meditation
What is Mindfulness
What is Mindful Meditation
The Attitudinal Foundations of Mindfulness
History and Background
Mindful Eating
What is Mindful Eating
The Attitudinal Foundations to cultivate mindful eating
Identify and change the patterns of your mindless eating
Mindfulness Meditation & Mindful Eating Practices
5 mindfulness meditations
9 mindful eating practices
1 mindful walking practice
1 mindful movement practice (yoga)
Cultivating Mindful Eating (Inner Wisdom)
Listen to your body cues of hunger, fullness, satiety, taste and preferences
Learn when your body tells you to eat, what to eat and when to stop eating
Maximize the pleasure from eating smaller quantities
Distinguish physical hunger from emotional hunger
Manage difficult emotions
Identify what triggers you to eat
Manage food cravings
Cultivating Mindful Eating (Outer Wisdom)
Basic information about nutrients and food
Learn how your body reacts to certain foods to make the choices that support your health and well being.
Learn tools that will help you experiment with food choices, and help support making the changes that you do sustainable.
Learn about physical activities and their role in our physical and mental health.
30 min yoga practice
Supporting Tools
Mindful eating exercises
Practice logs
Inquiry sheets
Mindful Living
Balanced vs Out of Balance Eating
Balanced living
Learn healthy strategies to handle stress
Tips for Home Cooking
Mindfulness in Everyday Life
Working with Clients
Planning your mindful eating program
Tips for leading mindful eating sessions
Responding to common client questions
Responding to common client challenges
Research Articles
7 research demonstrating how mindful eating can help people with binge eating, eating disorders and obesity
Eating Disorders
Basics knowledge about the common food disorders
Identify if someone has or is at risk of developing a food disorder
Overweight and obesity
Dieting
Learn facts & statistics about diets
Understand why diets don't seem to work
Understand the difference between mindful eating and dieting
Food addiction
Mindful Eating for Medical Conditions
Body Image
Positive vs negative body image
Cultivate a positive body image
Model a healthy example for younger people
Learn to forgive yourself, your body, and others

YogaRenew is a Registered Yoga School® with Yoga Alliance. Graduates of this Online Mindful Eating program qualify for 50 hours of continuing education.
Relieve Stress & Anxiety
Stress, anxiety, and depression are growing all over the world and most of the time people use coping strategies that do not support their mental and physical health. Obsessing about what to eat, what not to eat, how much to eat, how much one should weigh and what to wear are common causes for stress, anxiety and depression in today's society. This takes up a ton of energy which can be dedicated to other, more important aspects in one's life. By reclaiming this energy, it's possible to make life more meaningful, purposeful, and joyful.  
This program will teach you (and those you work with) healthy strategies to manage mood disorders through the skills of practicing mindfulness meditation. 
It will help you restore your relationship with food so you can enjoy it without the feelings of guilt and shame. You'll learn to approach your experiences with food and eating with the attitudes of non-judgment, compassion, kindness, patience, acceptance and open heart. You'll free more space and energy for the things that truly matter to you so that you can live a life that is fulfilled, satisfied and emotionally balanced.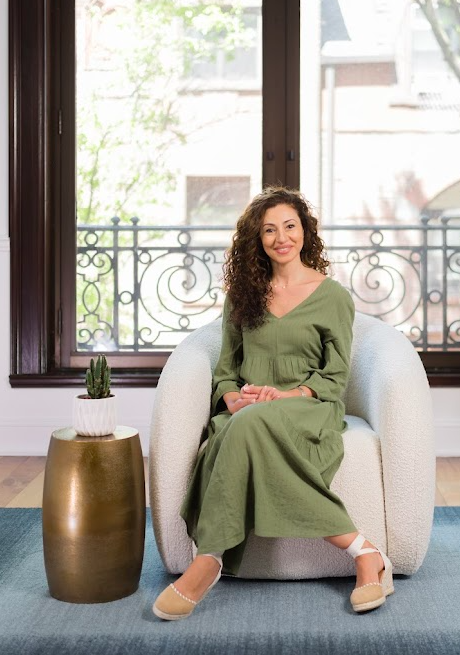 Meet your instructor...
Rajaa Azouqa
Rajaa is a seasoned leader in the Mindfulness space with three professional certification programs from the University of Toronto and University of California, Berkeley. She is Certified MB-EAT Instructor (Mindfulness-Based Eating Awareness Training) and completed MBSR Certificate Training Program (Mindfulness-Based Stress Reduction), as well as 10-day Vipassana silent retreat course.
Rajaa has held a personal practice in mindfulness for 16 years and has attended 25 long-term courses and retreats in academic and traditional settings, and has over 10,000 hours of mindfulness meditation practice.
In addition to her focus on Mindfulness, Rajaa is a registered E-RYT 500 yoga teacher along with other overlapping areas of expertise that have helped make her an incredibly well-rounded instructor.
Enroll in Mindful Eating Today!
Frequently Asked Questions