The first thing my in-laws asked my husband after he'd put them into near-cardiac arrest telling them that I was 1) American and 2) not of Indian descent was, "Is she vegetarian?" As Gujarati Jains, ahimsa (non-harm) is at the core of their faith, life—and diet.
Fortunately, this other kind of Indian is vegetarian (and vegan in the US). Vegetarianism flew in the face of my upbringing as a citizen of the Cherokee Nation where hunting is imbued into culture, but as we grow, increase our knowledge and expand our experiences, we are consistently re-aligning our values.
However, vegetarianism in authentic Indian households is worlds apart from what many of us westerners experience on a daily basis. Both my mother-in-law and my husband are phenomenal cooks. Here are two of my favorite vegetarian recipes including a savory and sweet option.
Both recipes are surprisingly simple, although for some the ingredients might seem unfamiliar, overwhelming, or difficult to get. If you're lucky enough to live in an area with an Indian store, they will have everything you need (if not, ordering online is always an option). When it comes to spices, it's always simplest and most affordable to trust Indian stores in my experience.
Spicy Moong Dahl
* Image shown is for yellow dahl but this recipe calls for black moong dahl
INGREDIENTS
1 cup split moong dahl (presara pappu)
3 Cups Water
1/4 tsp canola oil
1 tsp cumin seeds
2 green chilis
2 dry red chilis
1 tsp ginger, grated
10 curry leaves
big pinch asafetida (also known as ting)
to taste salt
1/2 lemon
1/4 tsp turmeric
1 onion
DIRECTIONS
1. Pre-soak dahl in water as long as possible (2 hours is ideal).
2. Cook dahl in water in pressure cooker until soft.
3. Heat oil in pot and add cumin seeds; cook until brown but do not burn.
4. Shred red chilis and add to pot (you can leave seeds or de-seed depending on how much spice you want).
5. Dice and add green chilis, curry leaves, ginger.
6. Add turmeric and diced onion, asafetida.
7. Stir and immediately add to dahl.
8. Check to be sure there is enough water in dahl throughout process. Dahl can be made either thick (like yogurt) or more watered down (like a soup). This depends on your preference. Water can always be added to taste.
9. Add salt to taste. This recipe is from my friend who is Gujarati Jain in Mumbai. I was told this recipe is meant to be a bit bland and they often add a good amount of salt.
10. Simmer for 10 minutes. Right before serving add squeezed lemon.
NOTES:
I've found that pressure cookers have different "personalities" and it's best to just watch the dahl to see when it's soft and to monitor water levels.
As noted in the directions, I've found most people like a good amount of salt added to this dahl, but that is up to taste and health.
It is best served with white rice.
HALWA/SHEERA INDIAN DESSERT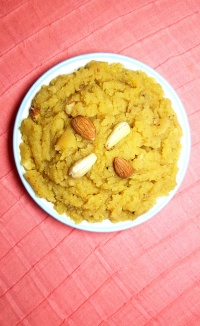 * *This dessert dish is called different things in different parts of India, but it's delicious and very easy to make.
INGREDIENTS
1 cup Semolina
1 Cup Sugar
1/2 Cup Ghee (or unsalted butter)
2 Cups Water
1/2 Cup Cashew halves/pieces
1/4 Cup Raisins
4 Pods Cardamom
4 Sticks Cloves
2 Sticks Cinnamon
DIRECTIONS
1. Melt the ghee or butter in a flat-bottomed pan and add the cardamom, cloves, and cinnamon. I've been able to find most ingredients at stores like Whole Foods/Trader Joes but you may have to go to an Indian grocer. I have substituted cardamom powder in lieu of pods and it has tasted fine.
2. Fry cashew nuts and raisins along with spices in the ghee/butter until light brown.
3. Add the semolina and stir until there are no dry spots in the semolina.
4. Add water and mix well.
5. Cover the pan and keep on low flame for 2 minutes or until the water is absorbed and semolina is cooked.
6. Add the sugar and stir well on low flame until bubbles start popping through semolina.
7. Cover pan and keep on low flame one more minute.
8. Serve while warm.
CONCLUSION
Many Indian foods and entire cuisines (depending on the community) are inherently vegetarian. Anthony Bourdain once said that Indian food was the one food where he didn't have issues eating vegetarian. By adopting more vegetarian recipes and dishes into your diet, you can enjoy a more varied experience and the ayurvedic benefits that often come with it. For instance, turmeric is an excellent immunity booster and can be added to virtually any savory Indian dish. Most importantly, have fun, experiment, and play—cooking and food should be joyful.