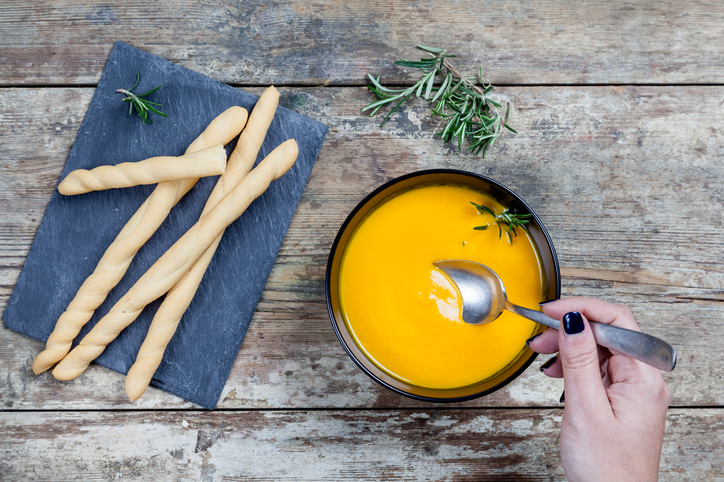 Boost Your Immunity with 2 Simple Vegan Soups This Fall Season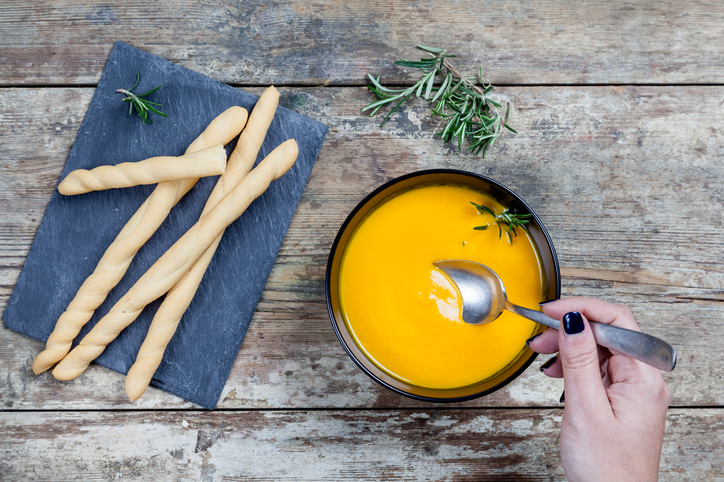 Stay healthy this fall season with two simple vegan curry sweet potato soups. Both of these recipes are rich and flavorful – and loaded with immune boosting nutrients your body needs this cold season to fight off colds and infections. Studies have shown that a plant based diet can do wonders to your health including, reducing your risk of cancer, lowering heart disease, reducing high blood pressure, boosting your gut health, maintaining a healthy weight, and improving your immunity. Something as easy as adding just one plant-based meal to your weekly dinner rotation can improve your health. Eating vegan also doesn't have to be complicated or take too much time to prepare. The easy soup recipes below take less than 30 minutes to make with minimal prep work. They can even be made ahead of time and enjoyed throughout the week. Enjoy these soups on a cold fall day after yoga class and a warm bath, for dinner time, or even lunch time. Enjoy dear yogis!
Namaste,
Christa Clark
Creamy Curried Sweet Potato Soup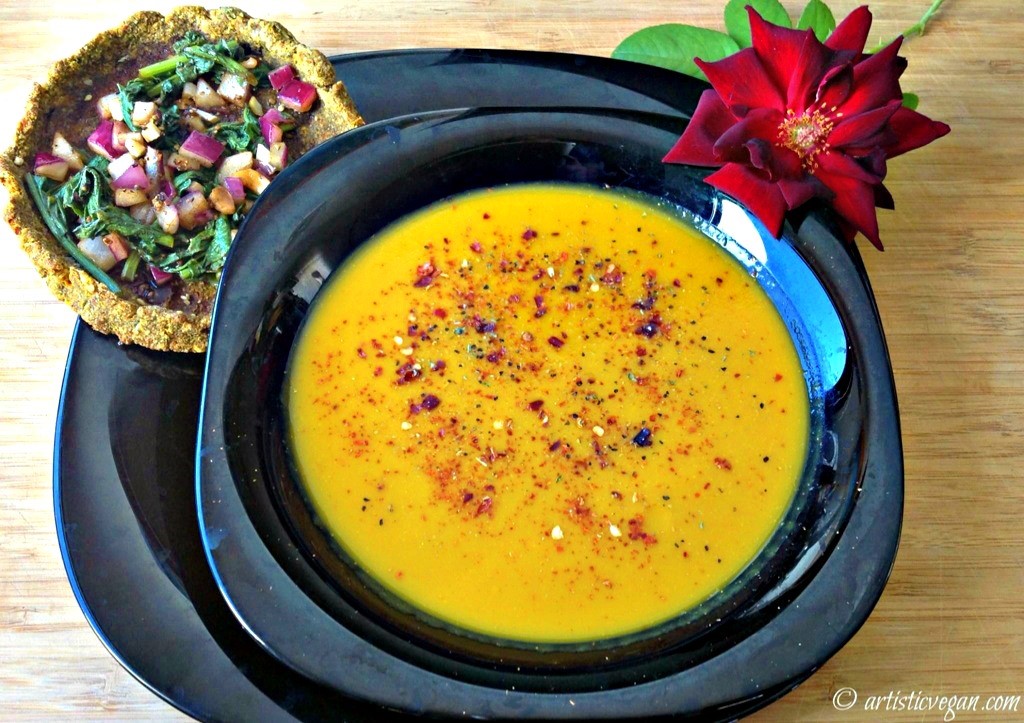 This delicious creamy soup will warm you up from the inside out, making your belly and body smile! Sweet potatoes are naturally loaded with lots of Vitamin A, which helps to fight off infections. The radishes in this soup are high in Vitamin C, which also powerfully detoxifies your body to promote a healthy immune system. We add in curry powder, a powerful antioxidant for cancer and also for fighting off bacterial infections. We combine all of these amazing powerful foods to create a magically delicious and healthy soup!
Creamy Curried Sweet Potatoe Soup | Makes 6 + Servings
Prep Time: 5 Minutes
Cook Time: 20 Minutes
Ingredients:
2 tbsp coconut oil (or veg broth for oil free)
2 sweet potatoes, peeled and cut into chunks
7 radishes, sliced and diced
pinch of salt
1 tbsp curry powder
6 cups water
1 tbsp soy sauce (tamari or coconut aminos)
red pepper flakes and black pepper to taste
Peaceful Preparations:
Heat the oil in a large saucepan or pot over medium heat. Next, add the sweet potato, radishes and a pinch of salt. Sauté for a few minutes. Add the curry powder and sauté until coated.
Add the water and bring to a boil. Cover and simmer for 15 – 20 minutes until the veggies are soft.
Blend until creamy with an immersion blender or cool and use a blender in batches.
Add soy sauce and simmer until heated throughout, about 4 minutes. Garnish with red pepper flakes and black pepper to taste. Serve hot with love!
Curry Sweet Potato & Chick Pea Soup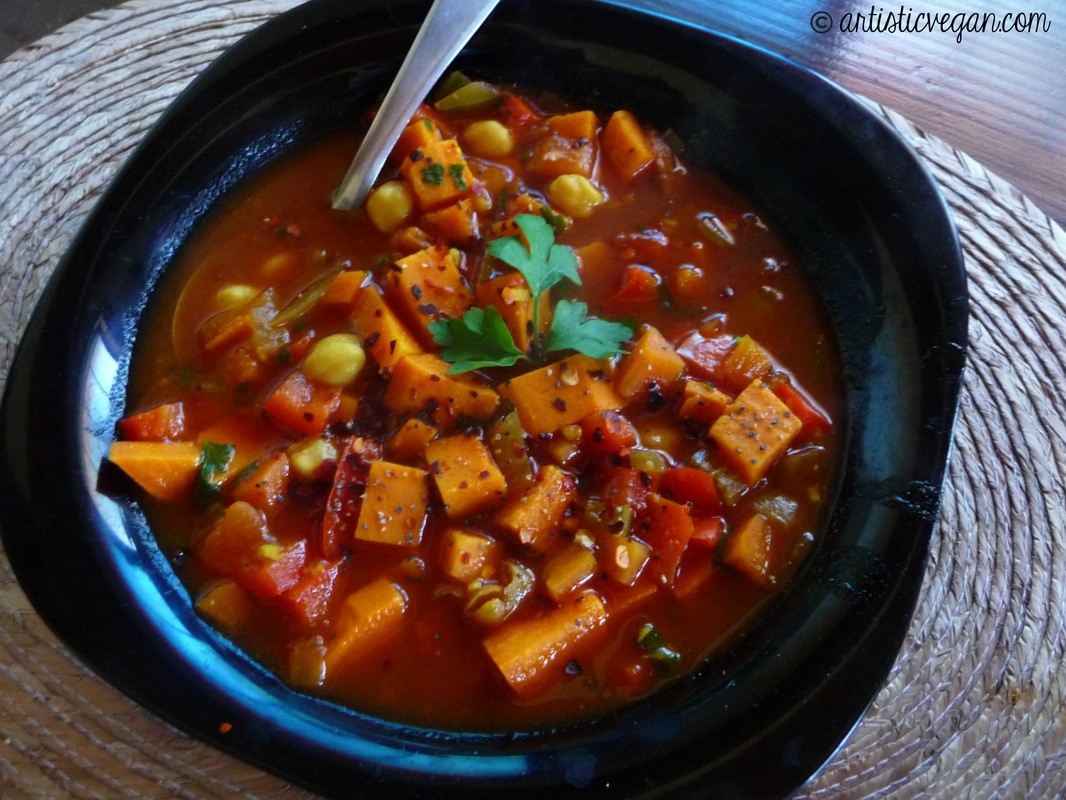 This simple, no fuss, Curry Sweet Potato & Chick Pea Soup is a hearty, satisfying, and comforting recipe that will warm you up even on the coldest fall days. This vegan soup recipe is extremely high in fiber and vitamins including Vitamin A, K, C and E. The healthy ingredients included in it all help to boost the immunity, is high in nutrients, and full of powerful antioxidants. The chick peas are also a great source of plant based protein that contain cholesterol lowering agents. The natural protein helps to keep us fuller longer which aids in maintaining a healthy weight and also nourishes our muscles. Over all this soup is a powerful anti-inflammation winner for a healthy mind and body!
Curry Sweet Potato & Chick Pea Soup | Makes 6 + Servings
Prep Time: 10 Minutes
Cook Time: 20 Minutes
Ingredients:
1/2 onion – diced
3 medium carrots – diced
3 celery stalks – diced
1 red bell pepper – diced
1 large sweet potato – diced
4-5 cloves of garlic – minced
1″ knob of ginger – minced
2 tsp curry powder
1 tsp Turmeric and Paprika
6 cups vegetable broth
3 1/2 cups chick peas
1 – 170g organic tomato paste
salt and pepper to taste
Peaceful Preparations:
Sauté the onions, carrots, celery and red bell pepper for 5 minutes in a medium to large pot with a splash of vegetable broth.
Add the minced garlic and ginger, cook until fragrant, about 2 minutes. Add the curry powder, turmeric, paprika, salt and pepper to taste. Mix together.
Add 6 cups of vegetable broth and the diced sweet potato. Cover, bring to a boil. Reduce heat and simmer, cooking for a total of 20 minutes.
After 20 minutes, remove the lid, add the chick peas and tomato paste. Mix well, cover and simmer for 10 minutes.
Add the 1/4 cup minced herbs, mix in. Serve hot! I sprinkled ours with a touch of salt, pepper, red pepper flakes and a sprig of parsley.
**Note For Both Recipes: You can use what you have on hand.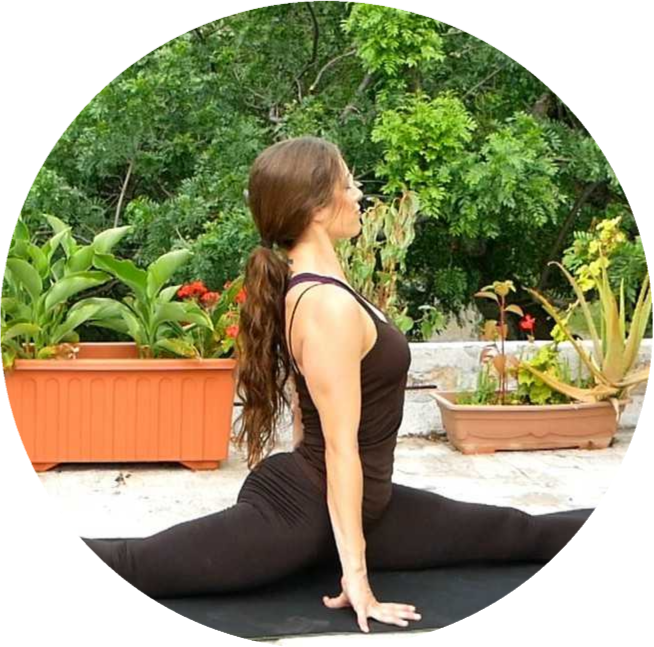 Guest Post By YogaRenew YTT Graduate, Christa Clark
"My name is Christa Clark, I run a vegan blog artisticvegan.com and practice yoga daily. I've had a personal yoga practice for over 11 years. I love how yoga has helped me through thick and thin, my mat and breath are always there. I became a structural integrator along the way and worked alongside my husband to open Gravity Body Academy, an online school for structural integration. In that process I fell in love with online teaching and learning. When I found Yoga Renew it felt like the perfect opportunity to become a certified teacher. I loved that I could fit it into my schedule and do it from home. Thank you YogaRenew for turning a dream into reality! I now offer yoga classes on the Artistic Vegan YouTube Channel, at artisticvegan.vhx.tv, and have tons of free vegan recipes at artisticvegan.com."