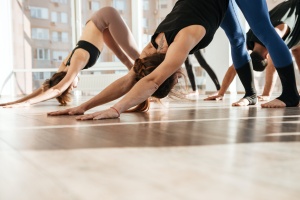 Several years ago, I spent a summer in Ireland. For part of that time I lived alone in a cottage on the west coast of Connemara, right off the Atlantic ocean. Rolling peaks draped over the countryside behind me while the expansive, bare coastline made those rough waters feel even closer than they already were. The small house endured whatever weather the ocean delivered since there were no trees or hillsides to block the elements from rushing inland. I would often lay quietly, listening to the sound of the wind whipping around the house. It was rhythmic and calming. It had a tempo of filling up and letting go.
The late poet Mary Oliver offered this, "Attention is the beginning of devotion." In terms of yoga, learning to focus on our breathing is foundational to nurturing a much deeper relationship with ourselves. When I started practicing yoga the most noteworthy change I experienced was my ability to pay attention to my breathing and to breathe deeply through a prāṇāyāma technique called Ujjāyi. When I returned home from Ireland and heard my breath sounds in the quiet yoga studio, my inhales and exhales sounded familiar in a new way. I realized that the pulse of those Atlantic gusts on the walls of the cottage sounded just like my Ujjāyi breath. Even more, I began to understand that the magnificent power of the wind off the ocean was the same elemental energy that existed within me.
The word prāṇa means vital breath, wind, energy and strength, and prāṇāyāma is the work of expanding and controlling the breath in order to sync our individual prāṇa with a universal one. One of the most impactful gifts we can offer our yoga students is the invitation to breathe deeply through Ujjāyi prāṇāyāma. The word Ujjāyi contains many meanings including expansion, victory and triumph.
What is the Ujjāyi Prāṇāyāma practice?
This powerful technique involves slightly constricting the muscles at the back of the throat while inhaling and exhaling through the nose. The air travels across the roof of the mouth creating audible, whisper-like breath sounds, similar to wind or waves. The idea is to create smooth, rhythmic cycles of breath by steadily transitioning between full inhales and exhales while pausing briefly in between each. It's movement in the body, and you can hear it and feel it. Here are some tips and considerations for teaching Ujjāyi breath:
1. Breathe with your students.
Taking the breaths we prompt our students to take not only helps us remain calm and focused while teaching, but also supports a well-paced class so our students have time to practice linking their breath with their movements. Breathing audibly can feel vulnerable to students regardless of how long they've been practicing yoga. By joining them in the breath-work we're modeling what we're teaching and offering them companionship at the same time, which fosters fellowship and trust.
2. Teach Ujjāyi with exhalation through the mouth.
If our students have never practiced Ujjāyi prāṇāyāma, understanding the sounds they're striving for may take time. A helpful way to introduce students to Ujjāyi breath sounds is by leading them through a few rounds with exhalation through the mouth. After instructing them to inhale deeply through the nose, cue them to exhale through a wide, open mouth as if they were trying to see their breath or warm their hands on a cold day, which creates a "ha" sound. Then direct them to continue breathing deeply and audibly but now inhaling and exhaling only through the nose.
3. Reminding students to breathe is enough.
In some cases it may take time for your students to become comfortable engaging Ujjāyi breath in class. If so, don't worry. Keep teaching it and exploring different language to support them. A breath-focused dharma talk is very powerful. I often remind my students that the most important thing they'll do in class is breathe. The act of focusing on our inhales and exhales is the essential first step to breathing deeply and still offers enormous benefit.
By learning to quiet my thoughts through focused breathing, I fostered a connection to something greater than myself. Whether it's the wind at my doorstep or the breath in my body, these experiences of prāṇa nurture in me a state of unparalleled quiet that is deeply reverent, full of wonder and even prayerful. Inspiring our students to take full, deep breaths invites them to move beyond attention and towards relationship. It can encourage thoughtful self-reflection and, quite possibly, a sincere curiosity about the nature of Spirit.