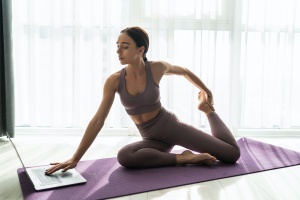 A few summers ago, I suffered from terrible anxiety. To cope, I'd often sit outside under the trees noticing the light pouring through the branches and listening to the sound of my breath mingling with the tune of fluttering leaves. It would bring me tranquility and it was time just for me. I had faith in this practice to restore me, if I gave the trees my full attention. Yoga requires a similar faith. If we practice with sincere effort, equanimity and trust, over time the process of yoga will bring us back to ourselves. And like the shelter of the trees, one pose can also be a place of refuge. The āsanas are not simply things we do. They are places we go.
The current global health crisis is a moment of emotional, physical, and spiritual depletion. We may not have the time or energy for lengthy āsana practices or extended meditations right now. But if we're tired and anxious there are simple, time-efficient ways to restore with yoga.
Reclining Bound Angle Pose (Supta Baddha Koṇāsana), accompanied by breath-work and focused awareness, can be a complete practice for deep relaxation. Do the best you can to find a quiet space to do this exercise. If it feels impossible to calm down, don't be dissuaded. Regardless of how long you have available to rest in this posture, it will benefit your mind and body. Proceed without attachment to the outcomes, but with willingness and curiosity.
Step 1: Reclining Bound Angle Pose (Supta Baddha Koṇāsana)
Start in Corpse Pose (Śavāsana) and take a few breaths there. With each exhale loosen the muscles of your back, melting into the support of the floor. Bring the soles of your feet together at a comfortable distance from your pelvis, opening your knees wide. Place a block, cushion or rolled up towel under each knee. Allow these supports to bear the full weight of your legs, facilitating a release in your hips. Draw your tailbone down the mat, rolling your pelvis up towards your navel, creating space in your lower back. Tuck the chin slightly to lengthen the back of your neck and adjust as needed to ensure your spine is not compressed. Lay your head on a pillow and drape a blanket over your body. Close your eyes or soften your gaze, relax the muscles of your face, and position the hands in any way that feels best to you. Breathe naturally for several minutes. Remain in this posture for the duration of the practice, or for as long as it feels comfortable.
Step 2: Three Part Breath (Dīrgha Pranāyāma)
Place one hand on your abdomen and the other on your heart. Prop up your elbows with rolled towels if desired. Inhale from the space below your navel and send the breath seamlessly through your rib cage, extending the sides of your body, and then up into your chest until your lungs are full. Draw your shoulders towards the mat as your heart space opens. Exhale completely and with control. Allow your chest to fall, your ribs to reform and your navel to gently drop back towards the spine. With each breath cycle use the placement of your hands to feel the breath dance in your body.
Step 3: Withdraw the Senses (Pratyāhāra)
Disengage your senses from the world beyond your mat. Focus on your inward experience, rather than ambient noise, anxious thoughts, or unrelenting laundry lists. When your mind starts to wander, refocus on your breathing. If the thoughts persist, don't be discouraged. Use your breath awareness as a shield from material distractions, as well as a guide for exploring the stillness and stability of your inner self. Pay attention to your breathing, but abandon all effort in your body. Be at ease in the unknown, the mystery of the self, an uncharted holy place.
May this practice bring you solace and peace, quell worry and fear, and serve as a place of refuge protected by the unassuming presence of your own breath. May it reveal the subtle complexities of your body, the transformative power of the āsanas, and the grace of praṇa. Above all, may it revitalize your spirit in times of great uncertainty.