Though we follow different traditions of yoga asana, most all lead us to the final destination of relaxation, savasana. The practice of asana prepares our students' minds and bodies for deeper awareness, by which savasana is the gateway. Savasana is subtle, a practice that builds the foundation for meditation and pratyahara. As yoga teachers, we can prepare our students for a deep savasana practice once we comprehend why we do it, and how.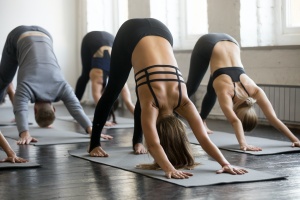 Savasana integrates asana and ujjayi breathing on a deep level. It also serves as a transition from the formal practice of yoga into the outside world. Many students fall asleep during savasana, which is normal, but not the intent of the practice. The body becomes fatigued from the work of a balanced asana practice, while the mind becomes focused and calm through concentrated breathing. In savasana, the needs of the body and mind are transcended, and true relaxation and release can take place.
In savasana, some yogis may experience a dreamlike state, not quite like sleep, but unconscious nonetheless. Others may simply lose themselves, remembering nothing but the lingering stillness after the practice is complete. And some may have experiences beyond the mind and body that defy explanation. Because of the subtle nature of savasana, it is best to let whatever comes come, and to speak little of the inward nature of the practice. To articulate into words what cannot be perceived by the intellect bypasses the mysterious nature of our connection to the unknown. Just like yoga asana, some sessions are difficult, and some come with gentle ease, but in the end, savasana is a practice– a process to apply again and again.
From the outset, savasana appears to be simple and defined. Lie down, close your eyes, do nothing. However, for yoga teachers to hold space for our students to enter this deep state of relaxation, we require technical know-how, practice, and attentiveness. If your students are restless in savasana– fidgeting, coughing, or are lying with their eyes open, implementing the following techniques will help you to prepare them for deeper restoration. First, a balanced asana practice, with both rigor and cool down, is essential. The body must be worked in order to access the mind, and that work must be released in order to fully relax. Offering a cooling sequence about 10 minutes long is effective, especially if the final poses are done on the back, such as jathara parivattanasana, Revolved Belly Pose. Next, allow for 5 minutes of deep ujjayi breathing, either lying down or sitting up. Smoothly transitioning your students from the dynamic practice of asana into meditative breathing will prepare them to relax and will support the integrative process of savasana.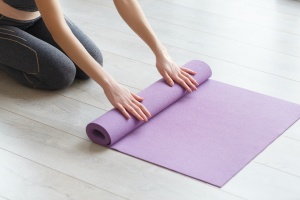 Creating a calming environment during the cool down portion of your class will subconsciously prepare your students for savasana. Dim the lights if possible, or turn them off completely. Slowly lower the volume of your regular music until it is mute prior to beginning your breath exercises. Similarly, begin to soften your instructional voice and slow your cadence as you bring your students into their final postures. I find that using the same words to guide my students to the floor, class after class, signals a state of relaxation, with each instruction slower and quieter than the last. Encourage your students to lie down quietly with minimal movement. Instruct them, practice after practice, to relax, to be still, and to let go. Finally, play a rhythmic selection of music especially reserved for savasana, ideally, without words that the mind can grab ahold of.
While your students are journeying inward, it is important for you, as the teacher, to reinforce the subtle work of their practice. Savasana is not a time for a teacher to check their phone, to leave the room and socialize in the reception area of the studio, or any number of things that might pull attention away from the students. Savasana is a time for you to go inward, as well. During savasana, you can sit in silent introspection, chant mantra in your mind, or lie down quietly. Be present in the subtly of the practice, for this space is our forum of learning, as much as it is for our teaching.
Allow your students to remain in savasana for at least 5 minutes, and then slowly, softly, and quietly draw them out of their inner space by bringing awareness back to the breath. Take several breaths yourself and give ample silence between your cueing in allowance for the deep state your students are coming out of. Encourage gentle movements before the greater motion of turning to a side. Patiently guide them to a seated position, and end your class as appropriate. In this way, the effects of the entire practice of asana, ujjayi, and savasana will stay with your students long after they leave the studio space. In the end, savasana is the crowning jewel of an asana practice, one that can touch the heart and souls of all who practice it.