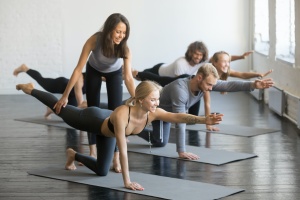 September is a time of transition.  The first leaves are changing, and pumpkin season is just around the corner.  September also happens to be International Yoga month!  I was quite intimidated when I first started my yoga teacher training as I wasn't sure if I was really ready for it. However, after a bit of research, I quickly realized how welcoming the whole Yoga community is and that it truly is for everyone who wants to expand their already existing knowledge.  That's why I would like to share the top six reasons why you should enroll today and start your Yoga Teacher training.
1. Turn your hobby into a career.
Is there something more fulfilling to think of? Probably not. Over the last one and a half years, well, basically, since we're dealing with a worldwide pandemic, I've seen many people rethink their lives, values, and priorities. I can feel a greater sense of awareness about our physical and mental well-being taking a more extensive presence in our lives, which in the end is a good thing, right? People are changing career paths: We've already adapted to life without gyms, and Yoga is an excellent example of a mind-body practice that can be performed everywhere – all you need is a mat. Modern technology makes it possible for you to start your zoom class from the comfort of your own home.
2. Build life-long friendships with like-minded people from all over the world.
YogaRenew has its own Facebook group for enrolled students. They can ask questions, exchange knowledge and tips, or simply celebrate their success when, for example, someone hosted their very first class.
I was fascinated to see such a heartwarming and positive group of people encouraging each other and am convinced to have made friends that I'll keep for life. Having a shared passion can build incredible bonds. The sense of belonging within this positive community has also helped me feel less isolated when I couldn't see friends or family due to Covid-19 travel restrictions.
3. Push yourself out of your comfort zone.
Let's keep it real; Doing Yoga Teacher training will not always be easy. It requires determination, discipline, and endurance. It can be very challenging at times, especially if you're trying to balance family life and your already existing career –  I get it. But the sense of accomplishment you'll feel once you finish it is priceless. Besides that, YogaRenew allows you to complete your studies at your own pace, as Kate Lombardo perfectly explained in How To Become A Yoga Instructor (The Ultimate Guide).
4. Do something for your mind, body, and soul.
Yoga is more than just stretching or exercise; Yoga is about mindfulness and helps restore the balance between soul and body. The so-called asanas aim to resolve inner contradictions and make you fully aware of the connection with the world, its living beings, and the whole universe.  While teacher training will provide you with all the tools to extend your wisdom and deepen your practice, you will eventually also have even more fun doing Yoga. I found that the more knowledge and understanding I assembled, the more rewarding and exciting it has gotten for me.
5. Experience a boost of self-confidence.
Knowledge is a power that can lead to more Self-confidence. I've noticed that many people look up to Yoga teachers as they are calm, wise, and overall balanced. Now that's what Yoga does to you, right? My own mentor was a pioneer in the Yoga scene in Switzerland, and I remember vividly how I knew at the early age of fifteen that I want to be just like her one day. She's over ninety by now and still keeps me inspired to this day. She radiates happiness and confidence. I aim to be that glowing old lady for someone else one day, and absolving a Yoga teacher training is undoubtedly a step in the right direction towards that goal of having a satisfying future with purpose.
6. Welcome the journey of self-exploration.
The term self-discovery comes from psychology and refers to a process in which a person wants to find out what makes them tick, what values they have, and what goals they are pursuing. Self-discovery, therefore, includes self-realization.
The Sanskrit word Svadhyaha means "self-study." It is not without reason that self-discovery, along with the appropriate treatment of our fellow human beings, stands at the beginning of the path to self-realization. If you want to lead a happy life, you can't avoid taking an inward look; something you'll get the opportunity to do a lot while in training. Maybe you don't even necessarily plan to teach but instead gain a deeper understanding of yourself, your mission in life, and your values? 
A yoga teacher training is not only a valuable education; it is also a powerful and fulfilling investment in yourself.
Join our mailing list for incredible weekly content!