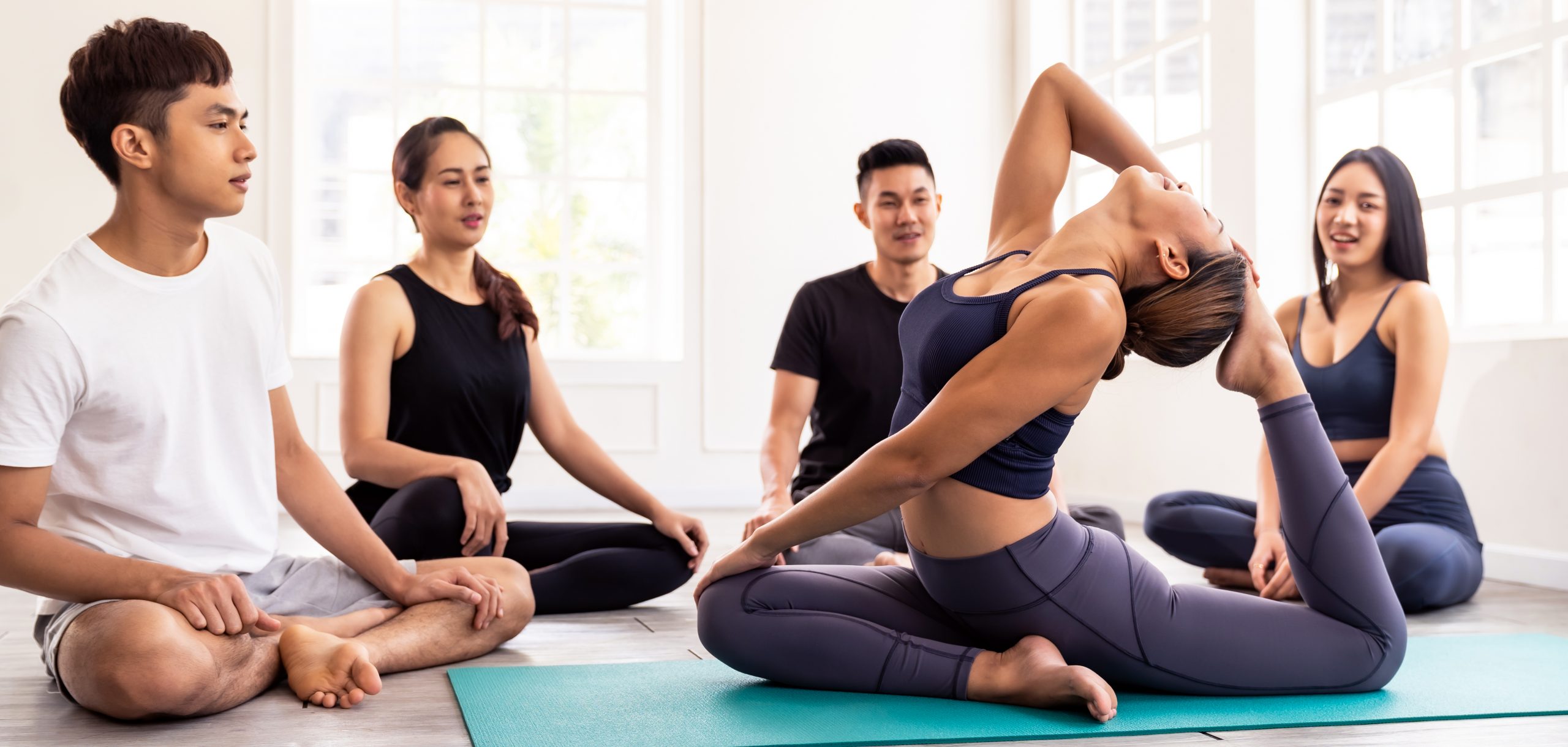 I'm always surprised at how many people enroll in one of my yoga teacher training programs because they were unsatisfied with another course they started or completed elsewhere.  If you're looking to become a yoga instructor, do yourself a favor and take a look through this guide first.
I promise it will help to clear up anything you might be confused about and it can save you a ton of headaches as well so that you'll know exactly how to become a yoga instructor.  If you still have any questions by the end of this guide (and I doubt you will!) you can reach out to me directly and I'll get them answered for you. Clear and simple.
There's a TON of noise out there about becoming a yoga instructor and sometimes it seems like each piece of information conflicts with the rest. It might be poor information, or it might be poor communication but it sure seems like there's a drought of clarity sometimes.  For example, did you know that you actually DON'T need a certification to teach yoga? Probably not – but I'll explain more on that later. I figured it was time to finally put together a guide on everything you need to know about becoming a yoga teacher. Let's dive right in!
What are the requirements to teach yoga?
In the U.S. and most western countries, there is no 'accreditation' or government body that you need to register with to teach yoga. This also means that you don't need a specific certification to roll out a mat and lead a class, but don't roll out that mat just yet – there's a LOT of reasons why you don't see yoga teachers all over town without any training. First of all, most places won't let you teach without a certificate. And even if you want to teach online or in a park, you're putting yourself in serious danger if you teach without any insurance. And insurance companies will want to see a certificate.
Students also want to know that their teacher has been trained properly. A yoga teacher training is more than simply learning a few postures – you learn important aspects of safety, anatomy, and other knowledge that's imperative for any yoga instructor to have. Without proper training, trying to lead yoga classes isn't just dangerous for you but it's dangerous for the students as well.
Yoga studios and gyms will want to see a certificate as well, which leads us into our next question….
What will a yoga studio look for in their yoga instructors?
Since the government doesn't set the requirements for a yoga teacher, it's really up to a studio to set those requirements. And each studio will have their own hiring criteria, but generally speaking they will want their students to have completed at least a 200 hour yoga teacher training. More frequently, studios are looking for teachers with a 500 hour certificate.
One helpful tip is that studios will often run their own teacher training programs and look to hire students from within those programs. If there's a specific studio you'd like to work with, stay late after class one day and ask them what they look for in their teachers. Often, you'll hear a studio mention Yoga Alliance – but what is Yoga Alliance?
What is Yoga Alliance?
Yoga Alliance is a registration body for yoga schools and yoga teachers. There are a number of other registration bodies all over the world, but Yoga Alliance is the largest and most common.
As mentioned on their site, Yoga Alliance does not certify schools and they are not an accreditation body like you'd see with universities or in other industries. While they don't actually certify the schools, they do sort of behave like an accreditation body in some ways. In order to register with Yoga Alliance, you'll need to attend a training by a school registered with Yoga Alliance and the training will need to be conducted by teachers who are registered with Yoga Alliance.
The way a training will work is that Yoga Alliance has a set of standards that each school needs to follow, and each school will submit their curriculum to Yoga Alliance in order to have their training approved. For example, they will ask for a certain number of hours to be completed for Anatomy, or Practice, or Technique, etc… Yoga Alliance has a few different types of registration credentials which are aligned with the way training is typically conducted.
What is the difference between a 200, 300 and 500 hour yoga teacher training?
I've seen lots of people get confused with this one, so let's clarify the difference between these trainings quickly. A 200 hour yoga teacher training needs to be completed before anything else. Lots of people think that you can start with either a 200 hour training, or a 300 hour training, but a 300 hour yoga teacher training should only be completed AFTER a 200 hour yoga teacher training has been done. A 500 hour certification is a combination of a 200 and 300 hour yoga teacher training.
Typically, students will finish a 200 hour course before anything else. The 200 hour program might be focused on a specific area such as Vinyasa, or Hatha yoga or it might be a multi-style yoga teacher training course. If the school is registered with Yoga Alliance, it doesn't really matter whether there is a specific area of focus for the training. Yoga Alliance will only recognize a '200 hour' training – they won't differentiate between a Vinyasa training and a Hatha training. Let's take a look at those credentials that Yoga Alliance uses because those draw up a lot of questions as well….
What's a RYT 200, RYT 500? (or E-RYT 200, E-RYT 500)
RYT = Registered Yoga Teacher. It is a credential specific to Yoga Alliance and in order to list yourself as a RYT-200 you'll need to complete a 200 hour yoga teacher training that's been registered with Yoga Alliance. If somebody is an RYT-500, that means they've completed a 500 hour program. Or it could mean that they've completed a 200 hour course, and then afterwards they completed a 300 hour course. 200 + 300 = 500 
E-RYT is a newer credential by Yoga Alliance. There is an E-RYT 200 and E-RYT 500 and you become eligible for E-RYT 2 years after completing a training. In addition to completing a training, you will also need to complete 1,000 hours of teaching with a RYS-200 registration. Outside of RYT, you also might see the designation CYT. What does CYT mean? Funny you should ask…
What's the difference between RYT and CYT?
RYT stands for Registered Yoga Teacher and is specific to Yoga Alliance, while CYT stands for 'Certified Yoga Teacher' and is a general designation. If somebody is listed as a CYT-200 then it would mean they have completed a 200 hr yoga teacher training, but they aren't necessarily listed in Yoga Alliance's directory.
In short, RYT and CYT are similar except that RYT is for people specifically registered in Yoga Alliance's directory.
Are there any requirements or qualifications I need to complete before I enroll in a yoga teacher training?
No. A yoga teacher training is where you'll gain a certification, so there aren't really any qualifications that you'll need to complete before enrolling. Students will typically come with quite a bit of experience though. A 200 hour training is not a walk in the park, so it's good to have a sense of what you love about yoga and what you're looking for out of a training before you commit to one. That will be helpful for you to determine which course is the best for you.
Can I complete a yoga teacher training online?
Actually, yes you can. Even before covid, schools like YogaRenew had conducted yoga teacher trainings online. 200 hours is a large commitment, and most people can't realistically complete such a large commitment unless it's self-paced and online programs allow students to work at their own pace in between work, children, and other responsibilities. Many people also live in remote locations that make attending an in-person training difficult, so online training has made it accessible to those who have longed to get certified but were previously unable to travel in order to attend a studio in person.
What's the difference between an in-person training and an online training?
There's going to be quite a few differences between attending a training in-person and online and there are pros and cons for each option. Each studio will have their own format and structure, but I can at least provide some general insight based on the format of online vs in-person training. An online training will typically provide much more flexibility because you will often have recorded material that you can review at your convenience in addition to any live or in-person sessions. Sometimes, you'll even have lifetime access to all the recorded material – (many schools will have a limit on how long their students can access the content so double check with the school first)
Both an online training and an in-person training should have live interaction with the trainers so that you can gain feedback from the instructors and ask questions through-out the course. If a training does not offer interactive elements and feedback from the instructors, it's a red flag. An in-person training is going to have much different interaction than an online course though. You can imagine that the way you'd interact with somebody in person is going to be different than the way you'd interact with them online and the same would apply for a training.
Both online and in-person trainings can have a social element, but they'll each be handled a little differently. Online trainings might have social elements during live sessions as well as through online groups, study buddies, and social media. In-person training will not typically offer online groups, or social media interaction since all of the interaction is handled on-site. It can certainly be helpful to have the online resources so that you can come back to them after completing your training. (Again, double check whether the studio provides lifetime access to the material.)
What are some important considerations for an online yoga teacher training?
I mentioned this earlier, but I'm still surprised at how many students come into one of my training programs after completing another course that they didn't feel satisfied with. Hopefully the considerations below can help prevent some headaches for you so that you know what to look for with an online yoga teacher training.
Here are a few items you'll want to evaluate before enrolling in an online course:
Most schools should have some feedback or testimonials from their students so that you can get a good sense of whether it's a suitable program for you to enroll in. If the school is registered with Yoga Alliance, students will provide a review on the YA site for the school when they go through the registration process.
The yoga instructors should have years of experience teaching as well and you should be able to review the background of the yoga instructors before enrolling. Each studio will have different trainers and styles of yoga.
Teacher feedback & Interaction
Whether the school is online or in-person, you'll want to join a course that has some feedback and interaction between the students and teachers.
In addition to feedback, you'll also want the opportunity to join live calls with the instructors. Some online schools will have calls that you can attend at different times so that you have flexibility to work at your own pace but the availability of live sessions. I offer a bunch of live calls at different times so that students can attend them in their time, but I also have recordings that students can watch if they miss a live call as well.
Some studios will have 'office hours' which is nice, but different from live training where you can actually ask questions on the spot as the training is being conducted.
One thing that's important for me is to drive the sense of community in our training programs. The live calls definitely help with this, but our groups are an incredible place for people to connect with each other. Either way, becoming a yoga instructor is an exciting journey and a big commitment, and you'll want to experience it with other people in a community setting. Find a course that offers an active and engaging community to join that you can stay with even after the training is completed.
With more online training programs becoming available, accountability has become more important than ever before. You need to know that you're on the right track, and that you're learning the information that you're supposed to be learning. I've seen students come into my studio quite confused after attending other schools that didn't offer much clarity on whether they were on the right track. Testing isn't just about memorizing information and passing a quiz… I also make sure to give each student feedback on how they cue and run their classes.
One of the major benefits of attending an online training is that you can gain access to a TON of resources. I'd suggest finding a course that gives you lifetime access to the resources, but you also want to make sure that you have some good material that you can take with you into your training.
We're continually adding new resources into our training programs, so even if you graduated a couple years ago you might still find some helpful sequences or resources that you can bring into the classroom as an instructor.
This one is obvious, but it's a good idea to test out support with a school before enrolling. It might be as simple as sending over an email to see how quickly you get a response. Email support is really the bare minimum you'll want to look for though. For example, we offer our live calls for students to interact in real time, and our community provides a place for students to connect locally or online. We provide a place for students to connect with each other to form 'study groups' as well and our feedback is individualized rather than general feedback we provide in a group setting.
For additional information, you can check out this article: What To Look for in a Yoga Teacher Training
How long is a yoga teacher training (YTT)?
Well, a 200 hour yoga teacher training should take 200 hours and a 500 hour program should take 500 hours. In-person training courses will typically have a start date and end date. Online programs will usually allow students to work at their own pace but some might have a start date and end date. Self-paced schools sometimes have an expiration date as well. Students enrolled in my courses have lifetime access to all of the material, and I don't charge anything if it takes a little bit longer for somebody to finish a course. Some students might take 40 days and others might take 400 days to go through a 200 hour program online. It really depends on how much availability you have and how quickly you're able to work through the material.
Does a yoga teacher training certificate expire?
A yoga teacher training certificate will typically not expire. I can't speak for every school out there, but I don't think I've seen any certificates that expire. Once you complete a 200 hour course, you have a 200 hour certificate. Once you complete a 500 hour course, you have a 500 hour certificate. Yoga Alliance and certain registration bodies might have some continuing education requirements where they'll want you to continue to improve yourself to stay registered with them but you don't actually need to register with Yoga Alliance in order to teach. Most studios will be okay with hiring you if you've already completed a 200 or 500 hour training.
Do I need insurance to teach yoga?
Yes, insurance is critical for any yoga instructor. First of all, you'll need insurance to teach at any physical location. At a yoga studio, the teacher will be the one who purchases the insurance. A yoga studio will have their own insurance, but typically they'll require teachers to bring their own insurance as well. This puts responsibility on the teacher to ensure that the class is conducted in a safe manner. Even if you want to rent your own room, the building will typically ask to see some insurance in order to use the space. This is to protect themselves from lawsuit and is standard.
We have a partnership with BeYogi Insurance for our students to gain insurance at a discount and studios will often have some insurance that they offer to their students or graduates that makes it easy to find a provider.
Is it possible to complete a 200 hour yoga teacher training for under $500?
Yes. Online training has enabled students to become a certified yoga instructor for decent prices and there are some incredible courses at great prices now. I've seen plenty of students spend thousands of dollars and attend a training they were unhappy with, so price is not always an indication of quality. A yoga teacher training is incredibly important, so you don't want to sacrifice quality – and you don't need to either. Make sure that there are regular zoom or live sessions that you can attend to interact with instructors. You should be able to ask questions, get feedback, and have trainers available to interact with. Good schools will have some reviews and testimonials that you can check out before you enroll also.