Surya Namaskar means Sun Salutation
Surya = Sun
Namaskar = "to bow down to," or "to honor"
Sun Salutations were traditionally meant as a way to honor the sun, the energizer of all life. These sequences were typically practiced during the early morning hours during prayer or worship.
In these modern times, sun salutations are still a viable way to honor the sun through the Yoga practice but it's also used to create heat within the body. If you've ever taken a Hatha or Vinyasa Yoga class, you've probably completed some sun salutations!
Sun salutations serve to warm up + prepare the body, to unite the breath and body, and to move in a meditative state to ready oneself for practice.
Sun salutations are very common sequences for a yoga practice. Understanding the anatomy behind it can not only enhance your teaching if you're a yoga teacher, but can also strengthen your own personal practice.
If you've ever been interested in anatomy from a yogic perspective, now may be the perfect time to explore that itch. We hope that you found this video helpful and for a deeper look inside yoga anatomy, take a peek at Joe's course.
Looking for even more details on how you can bring this knowledge into your classes?
Check out the free guide we put together on the Anatomy of Sun Salutations. We've made it easy for you and broken down, step by step, the breath cues, Sanskrit names, and anatomical position of every major joint in the body for each pose in Surya Namaskar A!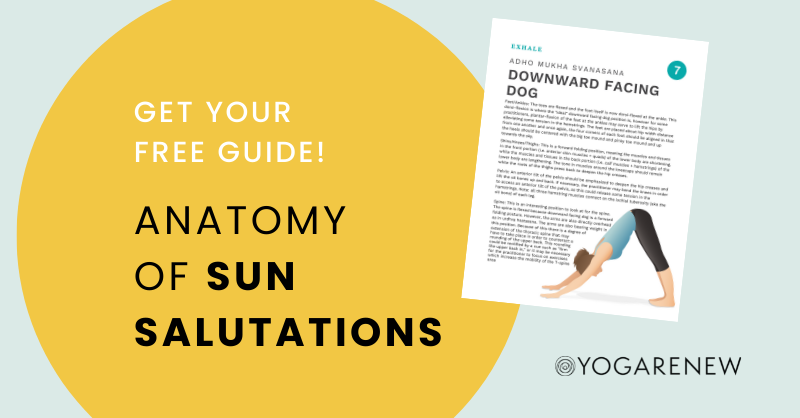 Join our mailing list for incredible weekly content!