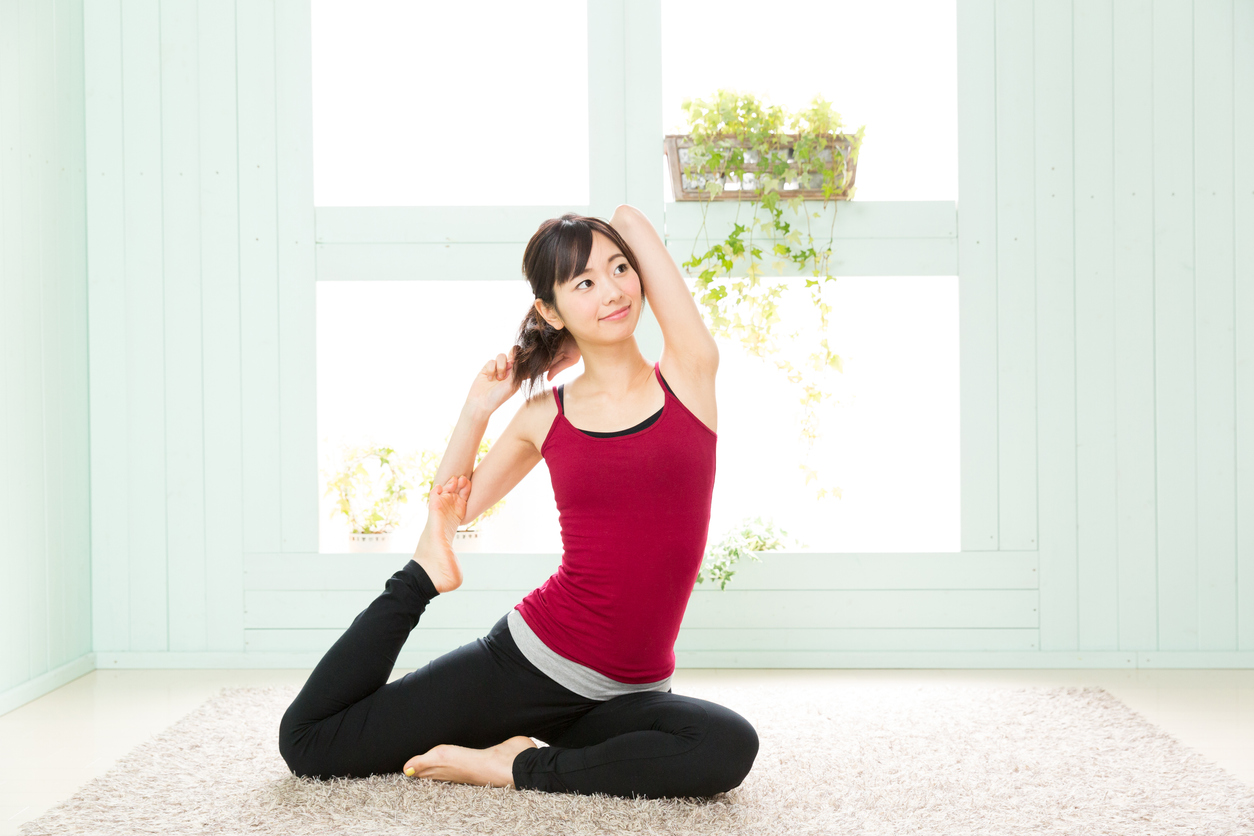 Yoga has been in the spotlight as a healthy and natural way to work out, destress, and quiet the mind, but one style has recently become more popular and is attracting all types of people. Yin yoga offers the opportunity to relax, ground, and release. With our daily lives already very active, stressful, and constantly on-the-go, more people are being drawn to this practice that teaches us how to surrender.
Yin yoga is a simple and quiet practice, but it's not always easy or comfortable. It can take you beyond your normal comfort zone, and this is where many of the benefits live.
While yin yoga is great for the physical body, many of the benefits stem from its effects on the mind and emotions. This practice allows the body to drop down into the parasympathetic nervous system, offering a grounding, calming, and revitalizing practice that can have profound energetic and emotional outcomes. This makes it a great practice for practically everyone.
Yin Yoga for Athletes
Yin yoga is one of the most effective styles of yoga that athletes can incorporate into their workouts. It's great for increasing flexibility, relieving tightness, and deeply relaxing both the body and mind. It's not generally comfortable and does require a good amount of time to be set aside, but the benefits are worth the effort.
Yin and yang is an ancient Taoist concept that describes the interdependency of oppositional forces. Day relies on night to exist, just as hot relies on cold, and so on. Neither aspect is good or bad, but are understood as two sides of the same coin.
When applied to sports, yang activities are typically hot, fast, dynamic, stimulating, and energetic. Yin activities are passive, cooling, relaxing, and therapeutic. Committing to both types of training aids in healthy recovery. Too much of one and not enough of the other can lead to falling short or burning out.
Some of the benefits athletes experience when committing to a yin yoga practice are:
Increased flexibility
Improved range of motion
Eases in aches and pains
Improved posture
Sped up recovery
Reduced injuries
Improved focus and concentration
Reduced anxiety
Relaxation and better sleep
Yin Yoga for Injuries
There is no right or wrong, good or bad, or even a certain way the yin postures are supposed to look. The reason for this is because everyone's body is unique. Ideally, each yoga student gives themself permission to feel and experience whatever is happening in that moment, without expectations or judgment. This is a safe, non-competitive environment where we can allow ourselves to just be in our bodies without specific goals.
From healing injured shoulders to safely rehabbing a new knee, yin yoga can help. Yin yoga is based on passively-held yoga postures, usually seated or lying down, held for anywhere between 3-10 minutes. These asanas unblock your chi flow through the meridians of your body, which happen to run through the connective tissue. Connective tissue is worked, nourished, and hydrated by yin yoga. It's where injuries can be healed through the action of fibroblasts and your immune system.
Yin Yoga for Beginners
Yoga classes are usually planned out based on levels — new students start with beginner or fundamental classes and work their way to Level 1, 2, 3, and beyond. There's all types of creative names for yoga classes that help designate what kind of yoga flow you can expect. But yin yoga doesn't have levels, and that's because it's appropriate for students of all levels, from the very new beginner to the handstanding expert.
One of the benefits of yin yoga practice is the ability to pay close attention to how we're feeling. Yin yoga gives us a chance to learn what sensations are, where they are, and whether they are healthy or too intense. In yang styles of yoga, beginners can be worried and overwhelmed with all the details of the poses: the alignment, muscle engagements, the teacher's directions, the breath, and on and on. But in yin yoga we have time to learn how to pay attention to each sensation and breath.
Students learn to develop their own awareness of what they need, including when to go deeper and when to back off. This helps students become well equipped for the faster-paced styles of yoga.
Become A Yin Yoga Instructor
Interested in becoming a yin yoga teacher? Learn about our Yin Yoga Teacher Training and contact us to learn more!