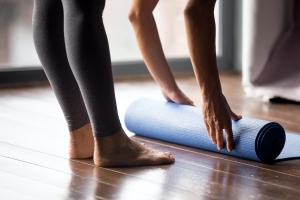 After practicing yoga for years, teacher training could seem like the most natural step to take next or you may be a yoga newbie with the same drive.  This is okay if you are passionate, enjoy learning, and are ready for some inner work.  Yoga teacher training is a journey of personal development and self-discovery. Here, we'll take you through some questions you might be asking yourself now that yoga teacher training seems like the next step. 
What kind of experience do you need to start a 200-hour online yoga teacher training?
The short answer is none. You don't require any experience when signing up for a 200-hour yoga teacher training. Yoga teacher training is the most accommodating course ever! You will find people of all practice levels and ages, from someone who has never stepped foot in a yoga studio to someone who has practiced for years. 
The main point that leads people to take the 200-hour yoga teacher training is because they want to accustom themselves to the fundamentals of yoga that you can only achieve through yoga teacher training, or they need the certification that comes with this experience. And for these, a 200-hour yoga teacher training is perfect.
Most people practice yoga for years yet don't know anything about yoga anatomy and how to do these poses without hurting parts of their body they didn't know could hurt. That's why a yoga course is priceless. 
 If you're seeking to test the waters of yoga teacher training, a 200-hour teacher training is what you need. From there onwards, you can decide whether to go up to a 300-hour teacher training or not. But after you've had your 200-hour certification, you will need to keep up with your continuing education. Yoga Alliance recommends you do it every three years. 
Continuing education ensures that the teacher keeps on learning. Learning is something no one can ever get enough of. Hence continuing education helps yoga teachers learn something new every three years to ensure they get more and more experience and knowledge.
How can one prepare mentally & physically?
Yoga teacher training can be challenging, and you need to prepare yourself mentally and physically for it. You might be pondering why you need to prepare for yoga teacher training; the main reason is that you will be practicing for around three to four hours a day for an entire week. 
Practicing that much will cause a strain on your body. But that's just the tip of the iceberg because your emotions and spirituality will also be tested and undergo growth just like your body. 
Preparing for yoga teacher training will reduce anxiousness. 
Be ready to do some inner work.
As opposed to what you might think, yoga isn't just about physical practices. Yoga will challenge you physically, spiritually, and emotionally. The thing about yoga teacher training is that you will be sore physically and you will also experience some mental and emotional discomfort as you transform.  Yoga goes conjointly with meditation, and you will challenge your inner self. You will discover more about yourself than you knew before, met your "shadow," and start the healing journey, which might be full of tears. But at the end of it, you will come out a new and better person. 
Yoga practice has existed for thousands of years. Knowing its humble beginnings from 5000 years ago in India to how it has evolved today will help you understand more about the practice. 
It will be hard to teach a practice you know little about hence the need for this knowledge. Also, you might need to answer the question about the originality of yoga when asked by a student in the future. Most yoga courses will have a set of recommended books for you to read. Check them out and read them thoroughly. You might need to read a couple of books. 
Have realistic expectations. 
When joining a yoga teacher training program, you should not do so for money. Teaching yoga can never be about money. To become a teacher, you need passion, hard work, grit, and determination.  Joining a teacher training doesn't mean you will do all the crazy poses you see people on Instagram do. Those take years of experience in personal practice to achieve. Such expectations might lead you to drop out of your teacher training before completion. Dropping out of yoga teacher training will prevent you from being an instructor. 
You could be joining yoga teacher training to get your certification or to have more knowledge about yoga. Either way, you should know why you're getting into yoga teacher training. 
Whatever reason you have, know that yoga will test your limits, which sometimes causes people to drop out. Anytime you feel defeated, remind yourself about the goal you have in mind. Your intentions will keep you strong as you get tested. 
Begin or expand your meditation practice.
Meditation teaches us how to cultivate an open mind. By practicing meditation, you will open yourself to new experiences, letting go of your ego and expectations. Doing this will help prepare you for your teacher training more than you could imagine. The openness of mind that comes with meditation is what you'll need to start your yoga teacher training journey. 
What's a good reason to take a yoga teacher training?
Not everyone takes yoga teacher training for future teaching purposes, and if you're that person, here are more reasons you should pursue yoga teacher training.
To learn healthy alignment

. Understanding the principles of alignment, how you should do poses and why, will help you in your daily life, even out of practice. You will find yourself noticing your posture and asymmetry. 

To learn how to deal with anxiety and stress

. Yoga teacher training will teach you mindfulness techniques and meditation to help you deal with stress and anxiety daily. 

To focus on yourself

. Yoga teacher training is all about you. It is a great investment in your growth and health. 

To get a boost of confidence

. Yoga teacher training will strengthen your sense of self, voice, and belief.
The first step in your journey to teaching yoga is a 200HR course
Yoga teacher training is a transformative journey, and you won't regret it as long as your heart is in it. To get you started, you can start with a 200-hour teacher training by Yoga Renew. Yoga Renew is a Registered Yoga School, and you'll get a certification recognized by Yoga Alliance.