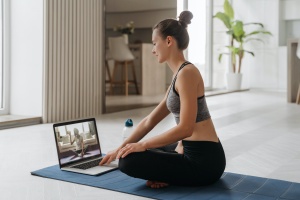 If you're looking for a full list of the best free yoga classes online, we've got you covered.
Today it's easier than ever to roll out your mat and join a free yoga class online. YouTube has a TON of classes but it can be a bit daunting trying to figure out which one to take so we've taken the liberty of helping out a bit.
Below you'll find an incredible selection of online yoga classes you can join for free right now. Or tomorrow. Or whenever. You can even browse different categories if there's a specific style of yoga you're looking for.
Each yoga class listed below is entirely free, doesn't require any sign-up and is available to start immediately.
We hope you'll find these as fulfilling as we have, and if you'd like to check-out new yoga classes on YouTube as they're made available you can subscribe to YogaRenew's YouTube channel.
Morning Yin Yoga Class
Instructor: Kate Lombardo
Length: 30 Minutes
Style: Yin Yoga
Fresh Air Flow in Hawaii | No Props Needed
Instructor: Desiree Fiorentino
Length: 30 Minutes
Style: Vinyasa Yoga
Yoga for When You Don't Feel Like Doing Yoga
Instructor: Lindsey Rozmes
Length: 20 Minutes
Style: Vinyasa Yoga
Restorative Yoga | Restorative Energy Practice
Instructor: Joanne Silver
Length: 30 Mins
Style: Restorative Yoga
Standing Twists
Instructor: Patrick Franco
Length: 30 Mins
Style: Vinyasa Yoga
Yoga for a Strong & Flexible Spine
Instructor: Joe Miller
Length: 30 Mins
Style: Hatha
Yoga for Your Core
Instructor: Desiree Fiorentino
Length: 15 Mins
Style: Vinyasa Yoga
Prenatal Yoga for Acid Reflux
Instructor: Melie Purdon
Length: 15 Mins
Style: Prenatal Yoga