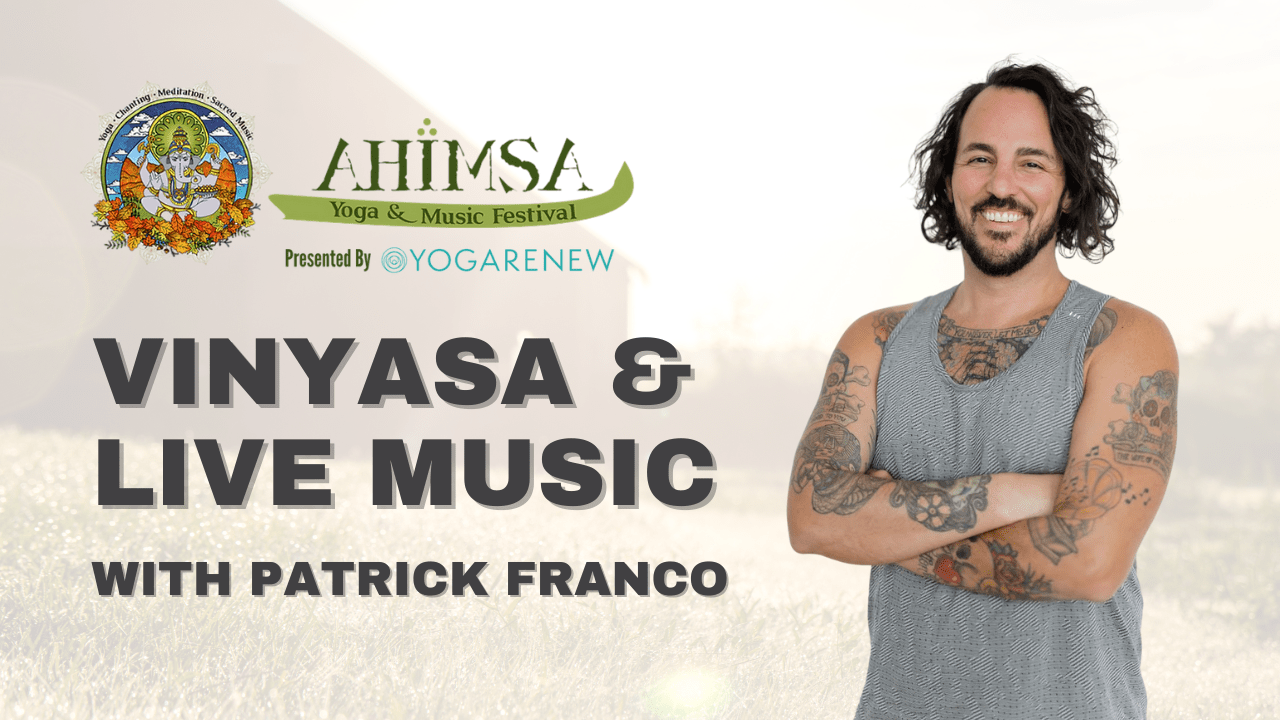 Ahimsa Yoga & Music Festival will take place on September 23rd and 24th on Lakota's Farm in Cambridge, NY!
Movement. Music. Mantra. Ahimsa Yoga & Music Festival is a global community driven through Ahimsa, which in Sanskrit means non-violence. It is a two day festival welcoming Sangha through music, movement, and mantra with the collective value of Ahimsa towards all beings, our planet and ourselves. All of the musicians, presenters, and collaborators provide a safe space to move, reflect, and focus on incorporating Ahimsa into our daily lives.
You can join us there in person, or sign up on this form for access to our free live streamed class from the Ahimsa fairgrounds with YogaRenew's very own, Patrick Franco!​
Joining us in person?! Get 20% off your Ahimsa ticket!
Use promo code "YOGARENEW20" for 20% off your one day or full weekend pass.
Livestream Patrick's Class
To serve our online community, we'll be live streaming Patrick's class on Sunday September 24th at 12pm.
Patrick's class will be synced to live music and will include therapeutic poses such as headstand and shoulderstand (or variations/modifications of the two), leading students towards an exploration of the subtle body with pranayama and meditation. The goal is to leave students with a Sattvic sense of clarity and peacefulness. The class will end with a Savasana like you've never felt before, intertwined with the music to cradle you into the perfect state of relaxation.
*This class is moderately paced and some vinyasa yoga experience is recommended.
Register for the Livestream: